Brazilian Keratin Hair Straightening Treatments Are International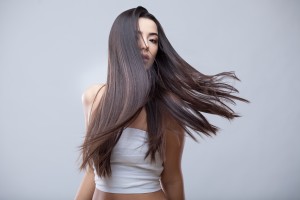 Just because it's called Brazilian keratin hair straightening treatment doesn't mean you have to be from South America to have it done.
While it may have started in Brazil, keratin hair straightening is now worldwide as millions of women around the globe discover the benefits of remove frizz and unwanted curl and replacing it with smooth, flat, and luxuriously straightened hair.
  Global Beauty
In Europe, the treatment is known as Alisado Brasileiro. In Japan, it's known as the Yuko System. But no matter what it's called, it all translates to the same top-quality, professional salon treatment that will leave your hair looking straight, lush, and sexy.
Brazilian keratin hair straightening treatments use natural keratin proteins that are combined with the keratin already found in your hair follicle. Heat is used to bond these proteins and flatten your hair.
The process normally takes about 90 minutes to apply but can leave hair looking straight and sexy for three months or even longer.
Brazilian Keratin Hair Straightening Treatments Are International – Showing the World A New You 
Depending on the type of keratin treatment used, there could be no downtime or it could take up to 72 hours before you can wash or wet your hair, exercise, or put your hair up in a ponytail, hair clip, or headband.
But once it's ready, your lush, straight hair will look amazing for weeks or even months to come. Plus, your preparation time will be greatly diminished because your hair will always be ready to go.
Simply, give it a quick brush and blow dry and you will be ready to face the world with a fresh new look that is certain to turn heads.
So what are you waiting for? Are you ready to be a world-beater? Then treat yourself to a Brazilian keratin hair straightening treatment and look your best all the time.