What Makes Brazilian Keratin Therapy 'Brazilian'?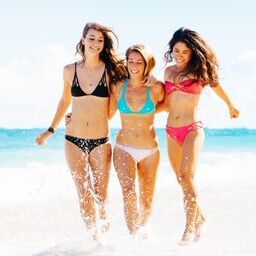 The South American nation of Brazil has brought many important things to the world, including Carnival celebrations, coffee, and, of course, soccer legend Pele.
But did you know that Brazil also is famous for giving the world a revolutionary, highly effective way for straightening and strengthening your hair?
It's true. Brazilian keratin hair straightening therapy is now available in professional salons worldwide. And it can leave your hair looking lusher, fuller, and more glamorous than ever before.
Brazilian Keratin Therapy — How It Work
As the name implies, the technique now known as Brazilian keratin therapy actually originated in Brazil. It was there that hair stylists first discovered that the hair follicle could be strengthened and straightened by adding the protein keratin to the natural keratin already found in hair.
Liquid keratin is sealed into the hair with a hot iron, creating a durable bond that makes hair naturally stronger while at the same time straightening the hair to make it look longer and more luxurious.
Brazilian Keratin Therapy — The Brazilian Way
Anyone who knows anything about Brazil should not be surprised that the country originated this groundbreaking new hair styling technique. After all, the country already gave us the hip-shaking samba dancing of the annual Carnivale celebration, some of the most famous beaches in the world, and one of South America's largest and most sophisticated cities, Rio de Janeiro.
Women in Brazil have known about the Brazilian keratin hair straightening treatment for many years. Only now, however, is the rest of the world discovering this miraculous secret that can leave your hair looking straighter and sexier than ever before.
Brazilian Keratin Therapy — Try It, You'll Like It
So if you are curious about this innovative new hair styling technique and want to look and feel your best, why not give it a try?
Ask your stylist about Brazilian hair straightening treatment from Marcia Teixeira. You won't regret it!