Creating a Summer Look without Breaking the Bank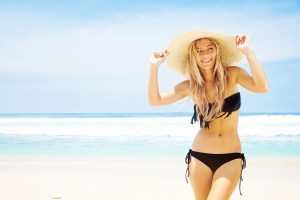 Summer is in full swing. So if you haven't yet created your new summertime look, it's time to get started.
The first thing to do is to break out your summer wardrobe. Many of the clothes that have been in the back of your closet or on an upper shelf all winter are ready to be brought out again.
That includes your shorts, swimsuits, tank tops, and other apparel that can only be worn when the weather turns hot.
Brazilian Keratin Treatment — Accessorize Your Wardrobe
The change of seasons requires a change of clothes. But you don't have to go out and buy an entirely new wardrobe.
Instead, you can wear the same summertime clothes as you wore last year. But you can make them look new again by simply adding a few key accessories.
New shoes, a sassy hat, or some eye-popping jewelry can make clothes you've worn for several summers in a row look as if you just bought them from your favorite fashion store.
Brazilian Keratin Treatment — Change Your Look
For most women, the makeup they wear during the winter is going to be different than how they do themselves up in summer.
Hot, humid summer weather requires a lighter touch at the makeup mirror. You don't want to be wearing thick makeup when the temperatures are hovering in the upper 90s.
Brazilian Keratin Treatment — Beat the Frizz Factor
Finally, there's your summer hair. Humidity means frizz. But you can beat frizzy hair with a Brazilian keratin hair straightening treatment from Marcia Teixeira.
Simply tell your local salon professional that this summer you want long, straight, luxurious locks that will make you the center of attention at any pool party or other summer gathering.
This summer, create a whole new look without breaking the bank with a keratin hair straightening treatment by Marcia Teixeira.