Avoid Getting Your Hair Wet Immediately After Your Keratin Treatment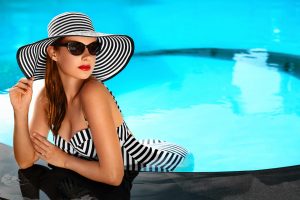 You've just finished your Brazilian keratin hair straightening treatment at your local professional hair salon. You pay the cashier (leaving a generous tip for your stylist, of course) then turn to head out the door when you notice it is pouring rain outside.
Uh-oh.
Your keratin treatment will leave your hair looking straight and lush for up to eight weeks after you get it done. But if you get your hair wet within 24 to 72 hours after your treatment, it could affect the way it looks.
Keratin Hair Treatment — Keep It Dry
In the 24 to 72 hour period immediately following your Brazilian keratin hair straightening treatment, it's important that you make every effort to keep your hair dry.
That means no going outside in the rain, no breaking a sweat at the gym, and no taking a dip in the pool or ocean. You also don't want to wash your hair until at least 72 hours after getting your keratin treatment done.
While this can be challenging, it is more than worth it in the long run. Your keratin treatment needs a long time to set. But the benefit is that once it does, you can enjoy your long, lush, and straight hair for weeks or even months afterward.
Keratin Hair Treatment — What Happens If It Gets Wet
Accidents happen. No matter how hard you try or how careful you are, sometimes getting your hair wet after your keratin treatment is unavoidable.
If it happens, don't panic. All you need to do is to set your blow dryer to medium heat and gently blow your hair until it is completely dry.
The last thing you want to do is to iron your keratin-treated hair after it gets wet. This can not only ruin your sexy, new look but also permanently damage your hair.