'Will Swimming Affect My Keratin Hair Treatment?'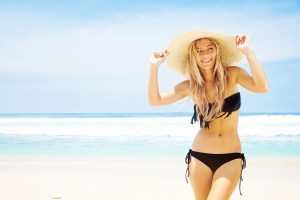 You want to look and feel your best this summer. One of the fastest, easiest, and most effective ways to change your look for the warm weather season is to get a Brazilian keratin hair straightening treatment by Maria Teixeira.
Getting a keratin treatment at your professional hair salon will give you long, straight, flat hair that is sure to turn heads wherever you go this summer. It will improve your look, making you appear more stylish, sophisticated, and sexy. It could even give you more personal confidence and let you meet new people.
Keratin — Getting Your Hair Wet
You can enjoy all your favorite summertime activities with your keratin treatment, including swimming in the pool or ocean … as long as you take a few simple precautions.
Keratin treatments coat your hair with the same keratin proteins that already are found in your hair. Using hot flat irons, additional keratin is bonded to your hair's natural keratin to provide the kind of strong, straight hair you will love to show off.
Keratin — Take Care of Your Keratin Treatment
Things like chlorine in swimming pools and salt found in seawater won't damage your keratin treatment, but they could shorten its life.
As long as you are careful about your keratin treatment, you shouldn't experience any problems at all. While swimming in the ocean or chlorinated pool water, simply tuck your hair into a swimming cap. This will protect your hair and keep it dry.
Or, if you prefer, you can treat your hair with a keratin-infused conditioner prior to going swimming. Then you simply rinse out the conditioner once you are through.
This summer, enjoy swimming in the pool and ocean and all your favorite activities and look better while you do it with a sexy, sophisticated Brazilian keratin hair straightening treatment from Maria Teixeira.