Get the Most Out of Your Keratin Treatment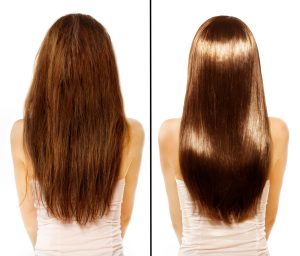 A Brazilian keratin hair straightening treatment can give you the kind of straight, lush, and attractive hair you've always dreamed of having.
Keratin treatments add additional keratin to the natural proteins already found in your hair, binding them together using heat. The result is long, luscious locks you can be proud to show off to your friends and family.
Keratin Hair Treatment — Tips for Making It Last
With the proper care, your keratin treatment can last for several weeks. But you can keep your hair looking straight and sexy even longer if you take a few simple precautions.
First of all, after you have your keratin hair treatment you should only wash your hair two to three times per week. The chemicals found in commercial shampoos can strip your hair of its essential oils. If your hair starts to look oily, you can switch to a dry shampoo or use a conditioner with no shampoo at all.
Keratin Hair Treatment — Conditioning Masques
To keep your keratin hair treatment looking its best, plan on using a conditioning masque about once every two weeks.
A conditioning masque uses nutritional proteins that penetrate the hair follicle, sealing in the keratin treatment and keeping your hair from becoming frizzy again.
Keratin Hair Treatment — Other Safeguards
It's also a good idea to use caution when swimming after you have your keratin hair treatment. Take steps to protect your hair from the chlorine found in swimming pools and the salt water found in the ocean.
You can still enjoy fun in the sun. Just wear a bathing cap or make sure you wet your hair with tap water before going into the water so that the water will absorb less of the chlorine or salt, both of which can strip the keratin from your straight, beautiful hair.