Give Yourself a New Look for Summer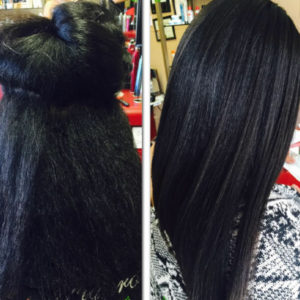 Summer is nearly here and you know what that means: Cookouts, pool parties, road trips, and all kinds of other summer fun!
For most people, summer is the most fun time of the year. You get to spend more time outdoors, enjoy good times with family and friends, and make the most of the longer daylight hours.
This summer, make it a celebration to remember by treating yourself to a whole new look — starting with a Brazilian keratin hair straightening treatment by Maria Teixeira at your local professional hair salon.
Keratin Treatment — Summer Loving
Whether you are looking for a summer fling, a long-term romance, or simply spending the summer meeting as many new people as possible, you can improve your odds of getting the attention you want by straightening your hair with a keratin treatment.
Just one session at your local salon is all it takes to give yourself the sleek, sexy, new look you want for summer. And because your keratin treatment will last for weeks or even months with little or no daily maintenance, you will have more free time to have a blast and enjoy your summer fun with your friends.
Keratin Treatment — Endless Summer
What better way to get ready for summer than to treat yourself to a whole new look. Match your summer outfits with the ultimate accessory: Long, straight, sexy hair that you can only get with a Brazilian keratin treatment from Maria Teixeira.
When you get your keratin treatment, you will be sure to turn heads wherever you go, whether it is the beach, the pool party, a summer concert, or anywhere else you have fun in the summer sun.
Treating yourself to a sexy, long-lasting keratin treatment is the best way to celebrate the summer. Get your keratin treatment and get ready for summer starting today!