Swimming after a Keratin Treatment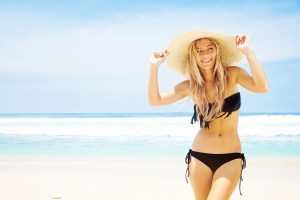 Summer is finally here and that means the swimming season has begun. But if you recently had a Brazilian keratin hair straightening treatment at your local professional hair salon, are you putting it at risk by jumping in the water?
Just about everybody has heard horror stories about swimming after getting a perm or a dye job. Urban legends include people's hair turning green, falling out, or having other terrible things happen. But what's the truth?
The answer depends on a number of different factors. Here's your summer Brazilian keratin swimming guide.
Brazilian Keratin Treatment — Types of Water
How water affects your keratin treatment depends on the type of water that you swim in. If you are planning to swim in a freshwater lake, river, or pond, there should be no threat to your keratin treatment.
Freshwater bodies of water typically do not include any chemicals that can react with the keratin from your treatment. Consequently, fresh water is usually safe to swim in without worry.
Other places to swim are a different story. Swimming pools generally contain chlorine and other chemicals that can shorten the life of your keratin treatment but they won't react with the keratin in your treated hair. Oceans and other saltwater bodies of water also will shorten the life of your keratin treatment.
Brazilian Keratin Treatment — What to Do
Just because water in pools or beaches can affect how long your keratin treatment lasts, that doesn't mean you can't enjoy them this swimming season.
All you really need to do is to tuck your keratin treated hair into a swimming cap before going into the water. A swim cap will provide protection for your hair against the chemicals in backyard or public swimming pools and from the salt in seas and ocean water.
So this summer swimming season, you can enjoy your keratin hair treatment while also having a good time swimming with your friends and family. Just make sure to be cautious about where you swim and take steps to protect your hair.