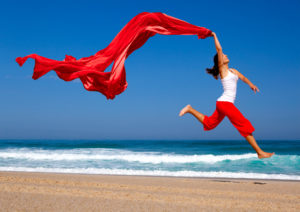 Look around any busy place this fall and you will notice something unusual about women's hair. Wild colors that once would be unthinkable are suddenly hugely popular.
The trend toward blue, pink, green, and even purple hair is a few years old and originally started with teenagers and young girls. But it has quickly been adopted by women of all ages. Today, you are just as like to see women with exotic colored hair as you are to see blonde, brunette, and other traditional colors.
Bold and Sassy
Wild colors are distinctly modern. When women choose to wear their hair in unnatural colors like blue and pink they make themselves the center of attention. It tells the world, "I am bold and beautiful. Notice me!"
Colors that were once seen only in fashion magazines or in high school hallways are now making their ways from Broadway to the boardrooms. Even professional women are starting to adopt the colorful, startling colors that are guaranteed to turn heads.
But there is a bold and exciting way to take wildly colored hair even one step further: Brazilian keratin hair straightening.
Brazilian Keratin Treatment 
Combining brightly colored hair with the luxurious look of Brazilian keratin hair straightening creates an even more dramatic presentation. Long, lush hair that is purple, gold, or pink will help you stand out in a crowd even if it already contains a rainbow of wild and wonderful colors. Today, you can not only look unique but also be bold and sassy than everybody else by embracing your wild side.
Ask your professional stylist about containing bold and brilliant colors with a Brazilian keratin hair straightening treatment by Marcia Teixeira to create an out of this world look that will put you smack dab at the center of attention. It's a whole new world. You might as well shine like a diamond.