Brazilian Keratin Hair Straightening Treatment Worth the Time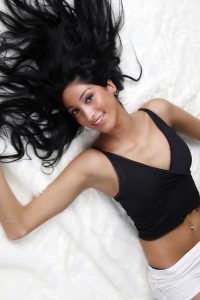 When you get a Brazilian keratin hair straightening treatment by Marcia Teixeira at your local professional salon, you can expect to spend about 90 minutes in the stylist's chair. This is a little longer than how long you would be there for a simple haircut or coloring.
But even though it may take a little longer go get a Brazilian keratin treatment, the extra time is well worth it and here's why.
Lasts Longer
For one thing, your Brazilian keratin treatment will last longer than your typical hairstyling. How much longer? Depending on the length and type of your hair, your hair straightening can last anywhere from a couple of weeks to a few months.
That means weeks and weeks of long, straight, sexy hair, compared to possibly only a few days or one week for the typical haircut or styling. So investing just a little extra time in your stylist's chair can pay huge dividends in how long you can enjoy your sexy new hairstyle.
Looks Better
For another, your Brazilian keratin hair straightening treatment by Marcia Teixeira will leave your hair looking remarkably different. How many times have you come home from the salon, looked in the mirror and thought, "Did she even do anything?" Or perhaps you asked your family how they like your new hairstyle and they didn't even notice any difference.
That definitely won't be the case with a Brazilian keratin treatment. Not only will you and your family notice that your hair is completely new and different, but your friends, co-workers, and even perfect strangers will notice you wherever you go. The difference is that dramatic.
So what if it takes just a little more time at your favorite professional hair salon? Getting a whole new sleek, lush, and sexy look with a Brazilian keratin treatment is well worth the time investment.