Have You Tried a Brazilian Blowout Yet?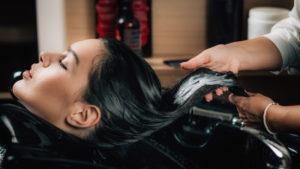 If you have been wondering what to do with your hair next to give yourself a distinctive, sexy look, consider a Brazilian blowout.
A Brazilian blowout is the all-natural way to enhance your current hair. In just one session at your local professional salon, you can have the kind of straight, lush hair you have always dreamed of having without the use of extensions, weaves, or wigs.
Keratin Hair Straightening
A Brazilian blowout works by using heat to add keratin to your hair. Keratin is an all-natural protein already found in your hair follicle, fingernails, and even your skin and bones.
Through the advanced technique known as Brazilian keratin hair straightening, your hairdresser can bind more keratin to the existing keratin in your hair to give you fuller, more luxurious hair that is sure to turn heads wherever you go. You can walk out looking sexier and feeling more confident than ever.
Best of all, your new look can last for weeks or even months with little or no maintenance. One session at our salon and you are set for a long, long time!
A New You
A Brazilian blowout is exactly what you've been looking for and didn't even know it. Now you can upgrade your look and treat yourself to long-lasting, great-looking, full and sexy hair that will impress your friends and give you the confidence to take charge of your life. It truly is that simple.
Whether you want to be more attractive, have more self-confidence, or just change up your look to create a sexier you, all you need to do is make an appointment at your favorite local professional salon and tell your stylist that you want a Brazilian keratin hair straightening treatment by Marcia Teixeira. In just one session you can create a whole new look for yourself that you will love and your friends will envy.