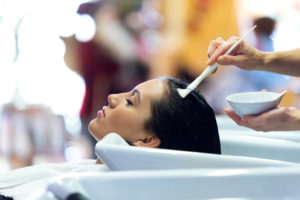 If you have been considering getting a Brazilian keratin hair straightening treatment, you may have a lot of questions. Here are some of the most common.
How does Brazilian Keratin work?
Essentially, your stylist will bond natural keratin protein with the keratin already found in your hair using a flat iron. This special process gives your hair more body and strength, resulting in bouncy, straight hair that will hold its shape for weeks or even months with little to no additional maintenance.
How Long Does It Take?
Depending on the length of your hair, the entire process including washing and drying your hair typically takes between 60 and 90 minutes. While this may be a little longer than you are used to spending at your stylist's appointment, the results will last a lot longer than a traditional haircut, coloring, or styling.
Does Brazilian Keratin Hurt?
Unlike coloring, curling, or other common hair treatments, Brazilian keratin does not include any harsh chemicals that can burn or harm your scalp. The only heat comes from the flat iron and as long as your stylist is careful and patient, it will be a pain-free experience.
Is Brazilian Keratin Expensive?
Prices are set by your stylist, so how much you pay for your Brazilian keratin hair straightening treatment may vary from place to place. But remember your keratin treatment will last for weeks or even months. So even though it may cost a little more than your regular appointment, it offers value over the long term. Plus, you will look gorgeous, which makes it worth it even more.
Will People Notice My Brazilian Keratin?
The answer to this question is a robust and unqualified, "Yes!" Your Brazilian keratin hair straightening treatment will give you the kind of long, straight, lush hair that is sure to turn heads wherever you go. Get ready to be the center of attention the moment you walk into any room. Your friends, family, and co-workers will marvel at how beautiful and glamorous you look.