One Hour Offers Benefits that Last Weeks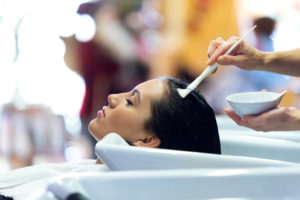 Are you looking for a great value that will also give you incredible good looks? Then consider a Brazilian keratin hair straightening treatment from Marcia Teixeira.  In just one appointment at your favorite local professional salon, you can get a single hour-long hair treatment that will give you buoyant, bouncy, sexy hair that will last for weeks or even months.
Keratin hair straightening strengthens as well as straightens, giving you the kind of long, luscious locks that are sure to turn heads wherever you go. Best of all, your hair will require no additional maintenance or extraordinary care for the rest of the season and beyond.
Caring Hair Care
Most women spend a lot of time, energy, and money taking care of their hair. But a Brazilian keratin treatment is the one-time solution that can last for up to three months with no additional care. Imagine taking all the time and energy you spend worrying about your hair and placing it somewhere positive such as improving your love life or getting ahead in your career.
Now you can stop worrying about your hair and start taking care of your life thanks to Brazilian keratin hair straightening from Marcia Teixeira, the practical hair care solution for today's busy women.
Stunning Hair
Imagine having incredible straight, sexy hair that is guaranteed to put you at the center of attention anywhere you go without having to work hard to maintain it. That's no fantasy. That's your reality after you get a Brazilian keratin hair straightening treatment from Marcia Teixeira.
So what are you waiting for? There's no time like the present to make an appointment with your favorite stylist and tell them you want your very own Brazilian keratin treatment. You're going to love the way you look — for weeks and months to come!