Brazilian Keratin Showing Up in Movies and TV Shows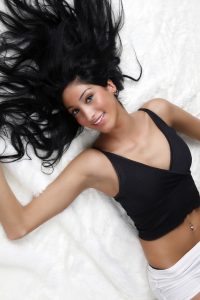 It used to be that Brazilian keratin hair straightening treatment was one of those exclusive secrets that only the coolest people knew about. But, apparently, the word is out about this fast and easy way to eliminate frizz and straighten hair quickly because it is showing up more frequently in TV shows and in movies.
When a character wants a "Pygmalion" style change of look, it's now common for them to book an appointment at their favorite fictional salon and ask for a Brazilian keratin hair straightening treatment.
Featured Hairstyle
Perhaps this is because more and more people in Hollywood are discovering the incredible benefits of Brazilian hair straightening treatments. It's long been reported that stars like Jennifer Anniston, Nicole Richie, Halle Berry, and Lindsay Lohan have gotten Brazilian blowout treatments to straighten and tame their hair. But now a new generation of superstars is turning to Brazilian keratin hair straightening on screen and off.
That's because even Hollywood movie stars understand that Brazilian keratin treatments are one of the fastest and most effective ways to transform plain, ordinary, and unmanageable hair into smooth, silky, and sexy locks that are guaranteed to turn heads wherever you go.
Everyday Glamor
But you don't have to be a superstar to treat yourself to a Brazilian keratin treatment. You'll just look like one. With just one visit to your favorite local salon, you can have the kind of straight, attractive hair you've always wanted. And a single treatment can last for weeks or even months.
So if you have been thinking about changing your look but aren't sure what to do, consider giving yourself the star treatment by asking your favorite stylist for a Brazilian keratin hair straightening treatment. It will change your look, giving you more glamor and boosting your self-confidence so you can feel like you belong on the silver screen.