Tips for Making Your Keratin Brazilian Blowout Last Longer
Keratin Brazilian hair straightening treatments take a long time and can be costly. So the last thing you want is for your keratin treatment to last only until the next time you get your hair wet or until the next rainy or humid day!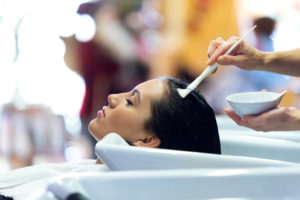 You can get up to 12 weeks out of your keratin hair straightening treatment simply by taking the proper steps to preserve your lush, gorgeous new look.
Brazilian Blowout
The first thing you should do is to make an appointment for a Brazilian blowout treatment, which uses a polymer to create a protective protein layer around each hair shaft in order to eliminate frizz and smooth the cuticle. Plus, it improves the condition of your hair at the same time.
If you color your hair or use other chemical treatments, you can still get a Brazilian blowout. In fact, the treatment not only will improve the health of your hair, but will also enhance the color. And if your hair has been damaged by chemicals, your results will be even more amazing!
The Brazilian blowout treatment is free of harsh chemicals like formaldehyde and you can even wash your hair right away.
Extending the Life of Your Keratin Treatment
To ensure that your hair straightening treatment lasts as long as possible, you should follow a few rules:
Washing — You should only use shampoo on your hair two or three times per week. That's because shampoo can strip your  hair of its essential oils. If you notice your hair is getting too greasy, use a dry shampoo. Another option is to use a conditioner without using a shampoo at all.
Conditioning — Use a conditioning masque twice per month. This will significantly improve the health of your hair by providing penetrating nutritional proteins that seal in the the keratin treatment and help keep your hair from becoming frizzy.
Swimming — You don't have to avoid going into the pool or the ocean just because you had your hair straightened. You just have to be careful. Don't expose your hair to chlorine or salt water too frequently because it will cause your keratin treatment to wear off more quickly. When you go into the water. wet your hair with tap water first so that the water absorbs less of the chlorine or salt.
Styling — Before you blow dry your hair, use a smoothing serum that is specifically manufactured for hair that has been treated with keratin. The salon where you received your treatment can provide you with the proper hair care products. This serum will help extend the life of your hair straightening treatment and also untangle and add shine to your hair. Combined with a Brazilian blowout, you can get the longest possible time out of your treatment and look absolutely fabulous at the same time!
Getting the most out of your keratin Brazilian hair straightening treatment is simply a matter of following these few simple rules. You want to be able to do all the things you would normally do, but look great while you are doing them.