Take Care of Your Keratin Treatment While on Vacation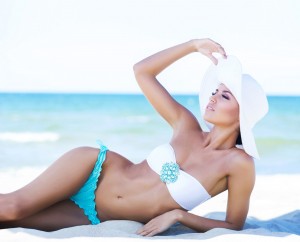 Now that winter has officially arrived in most parts of the country, it's time many people start to think about taking a vacation in a warm weather climate. There's nothing better than escaping sub-freezing temperatures, snow, and howling winds than flying off to someplace with a warm, sunny beach.
Having a Brazilian keratin hair straightening treatment is the perfect way to prepare for your winter vacation. You want your hair to look lush, straight and attractive as you relax by the pool, eat at your favorite restaurants, and find ways to relax and rejuvenate while recharging your batteries in a warm weather locale.
Schedule Your Keratin Treatment in Advance
It's a good idea to schedule your keratin treatment, at least, one week before your scheduled departure date. This will give you, at least, a few days for your keratin treatment to take hold, so you won't have to worry about being careful around such things as scrunchies, barrettes, or hair pins.
You know better than anybody how far in advance you need to call your salon to get an appointment. Some busy salons require appointments months ahead of time. So you may want to call as soon as possible in order to get in for your keratin treatment a minimum of one week before your flight leaves.
Caring for Your Keratin Treatment on Vacation
As long as you make it through the first couple of days without bending or damaging your hair, your keratin treatment will look amazingly gorgeous throughout your vacation whether you are only going away for a long weekend or plan on spending a month or more at your destination.
In fact, your keratin treated hair will look and be stronger than ever before. So you don't need to take any additional precautions while on vacation.
That means you can enjoy yourself and have the time of your life on your trip because you already know you look fabulous!