How to Find a New Stylist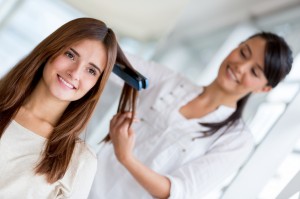 As a result of the global pandemic, a lot of small businesses are going under — including hair salons. Shutting down for three months while still paying the rent with no income is going to be too much for some professional salons.
After spending months doing nothing with your hair, if you are like most women you probably are desperate to get it cut, colored, and/or styled. So what do you do if you emerge from the stay-at-home order and your go-to hairstylist is permanently closed?
How to Find a New Stylist – Don't Panic
The first thing to do is to take a deep breath. Don't panic. There are plenty of options available to you. It's not like you are going to have to start cutting and coloring your hair yourself.
For one thing, many of the stylists who work for professional salons are actually contractors. In other words, they simply rent a chair at your favorite professional hair salon. So if the one you normally go to closes its doors, in all likelihood your favorite stylist will end up somewhere else.
If you don't already have your favorite stylist's phone number, email address, or website, you can always call the owner of your former hair salon and ask if they know where your stylist went. The hairstylist business is a pretty small community so odds are they will know and can steer you in the right direction.
How to Find a New Stylist – Try Something New
All right, the next suggestion is a little more daring. If your favorite hair salon has closed due to the COVID-19 pandemic, that could be a sign from the universe that it's time for you to try something new.
Nobody likes finding a new hairstylist. That's why once you find one you like, most people tend to keep going back for years or even decades to the same person. But if that's no longer an option, you have no other choice.
Start by asking trusted family and friends where they go. Then stop by a couple of the best suggestions and check them out without getting your hair done. The place where you feel most comfortable and welcomed is the best place to start.