Brazilian Keratin Offers Low-Maintenance Hair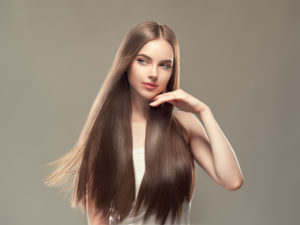 A Brazilian keratin hair straightening treatment at your favorite local professional salon will give you straight, sexy hair that will put you at the center of attention wherever you go. But did you know your new look will also be astonishingly low-maintenance for weeks or even months afterward?
While you will still need to keep your hair clean, you won't have to worry about things like curling it, styling it, or even ironing it to keep it straight. Instead, your long, luscious hair will keep looking great and sexy all on its own.
Low-Maintenance Hairstyle
Brazilian keratin works by bonding keratin proteins with the same natural proteins already found in your hair. Using heat and flattening tools, this strong, resistant bond can keep your hair straight, long, and attractive for two months or even longer in some cases.
That means weeks of a low-maintenance, highly-durable hairstyle that is simple to maintain but spectacular to look at. Now you can just wash your hair and forget it. No more curling irons, feathering tools, or overnight curlers. Just fun, sexy, and attractive hair.
Great for Today's Lifestyles
More and more active women are discovering the benefits of Brazilian keratin hair straightening treatments by Marcia Teixeira. They love how great their hair looks while appreciating how easy it is to maintain and care for.
When you spend less time on your hair every day you have more time for important things like careers, social gatherings, and romance. And because your hair will look so great for weeks or even months at a time, you can expect a boost in all three!
So what are you waiting for? If you want long, straight, sexy hair that turns heads wherever you go but don't want to spend hours every day maintaining your hairstyle, then treat yourself to a Brazilian keratin hair straightening treatment by Marcia Teixeira at your local professional salon today!