When Hair Straightening Is the Ideal Solution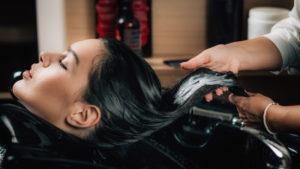 Let's face it: There are only so many things you can do with your hair. Depending on its length, you can curl it, you can layer it, and you can color it. Everything else is a variation on these three basic themes — except for one important option.
Straightening your hair not only makes it look more attractive, but it also can make it look longer, lusher, and more sophisticated. Plus, when you get a Brazilian keratin hair straightening treatment at your favorite local salon, it can reduce daily maintenance and sustain your elegant and sexy look for weeks or even months to come.
Time and Temperature
Some women like to have a different hairstyle practically every day. But for many women, this is not only impractical but also time-consuming. When you have a career, a family, a social life, and a to-do list a mile long the last thing you want is to spend an hour or more doing your hair before you even begin your busy day.
Brazilian keratin treatments let you get up and go with little to no daily maintenance to your hair. Not only will it cut down on the amount of time you spend working on your hair every day, but it also will give you the kind of sexy, head-turning look that will heat up any room you walk into.
Long-Lasting Look
Best of all, your Brazilian keratin treatment can last for weeks or even months without any further treatment or maintenance on your part. That means that a single visit to your favorite salon essentially will be the last time you have to even think about your hair for a long, long time.
If you don't have the time, patience, or the budget to change your hairstyle every day — or even every couple of weeks — then the hairstyle you need is a Brazilian keratin hair straightening treatment by Marcia Teixeira.