5 Ways a Brazilian Blowout Can Transform Your Life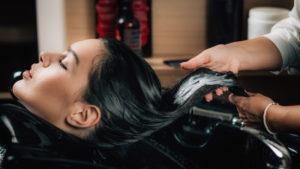 Brazilian keratin hair straightening is just another hair treatment you can get at your local professional salon, right? Wrong!
Treating yourself to a Brazilian blowout treatment can be a life-changing, momentous occasion that can transform your love life, your career, your social life, and much, much more! Here's how  …
A Sexier Look
Everybody knows that women with long, straight, lush hair are the sexiest women on earth. Your Brazilian keratin treatment will create an attractive look that is certain to turn heads whenever you walk into a room.
Holiday Transformation
What's the most popular programming on cable and streaming right now? It's Hallmark movies that feature women who find love just in time for the holidays. When you transform your look with a Brazilian keratin treatment, that movie could be your life! Don't you want to get the gift of love for the holidays?
Professional Success
Even in today's politically correct environment, women who look both professional and attractive often get the most attention at work — especially when it comes time for a promotion or an important assignment. Now you can put yourself at the front and center of attention by improving your look in order to get noticed when it matters most.
Envy of Your Friends
It's the holidays, the time for getting together with family, friends, and others who you perhaps haven't seen in months or even years. Wouldn't you like to make a positive impression by showing up to holiday parties with a spectacular new hairstyle? When you treat yourself to a Brazilian blowout treatment, you can be the hit of every holiday party you attend.
Personal Self Confidence
Perhaps the most important reason to give yourself a sexy, attractive new look is you. When you have the kind of long, straight, sexy hair that helps you look your best, you also will feel more confident and self-assured. And that feeling can help you succeed at work, in love, and in life.