New Look, New You, Same Thing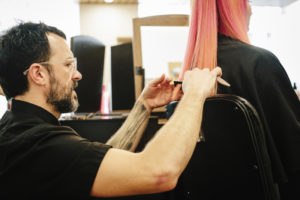 When you change your look, it can change your life — but not always for the better. Just ask anybody who has impulsively decided to cut their hair short, get bangs, or dye their hair a color not usually found in nature.
But now there is a hairstyle change you can do that will instantly improve both your look and your life. Brazilian keratin hair straightening can convert your frizzy, unmanageable hair into long, luscious locks that people will die for. And best of all you can make this "life upgrade" right now.
New Life
How does it work? Brazilian hair straightening is a salon treatment in which natural keratin is bonded to the keratin protein already found naturally in your by means of a hot flat iron. Your stylist will leave your hair looking straight, smooth, and elegant. And a single treatment can last anywhere from a couple of weeks to a couple of months.
Imagine walking out of your local favorite professional salon today feeling more confident and happier than you have felt in years. And it's all thanks to a simple Brazilian keratin hair straightening treatment that can be applied in a little less than an hour and a half.
Ready for a New Look
If you have been thinking about changing your look but aren't sure you want to try anything radical or irreversible, the ideal solution is Brazilian keratin hair straightening. Not only will you love the way you look, but everybody else will as well.
It's fast. It's easy. And it's life-changing.
Get ready to get lots of compliments and be the center of attention wherever you go. Make your appointment today and tell your stylist you want a Brazilian keratin hair straightening treatment by Marcia Teixeira. You're going to love the way you look and the way it makes you feel.