Brazilian Keratin Treatment Explained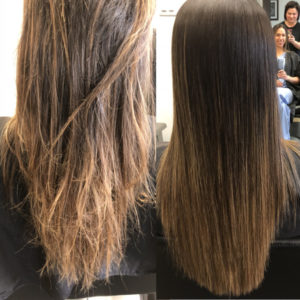 You may have been hearing or reading a lot about Brazilian keratin hair straightening lately. This innovative and effective new hair treatment is becoming something of a phenomenon as more and more women discover its amazing benefits.
But what exactly is Brazilian keratin hair straightening? And what exactly can you expect when you ask your local salon to give you one? Here are some answers.
Step-by-Step
Essentially, Brazilian keratin hair straightening is a salon treatment that flattens your hair while offering more bounce and shine. The treatment itself involves a number of steps and can take up to a couple of hours. But the results are stunning and can last for up to several weeks or even months with little to no additional maintenance on your part other than everyday washing.
So the process starts with getting your hair washed. Then your stylist will use a brush to add a special treatment to your wet hair where it will sit for about half an hour. Alternatively, some stylists prefer to blow dry your hair and then apply the treatment to your dry hair.
Either way, the keratin treatment binds natural keratin protein to the protein already found in your hair follicle. Once it sets, your stylist will use a flat iron to bind the two proteins together. The result is stronger, more robust hair that will hold its form for weeks or months at a time.
Say Goodbye to Frizz
Keratin-treated hair is resistant to humidity, so you won't have to worry about frizzy hair for a while. It also will hold its shape so you don't have to do things like straighten your hair or worry about getting it to look right. After your treatment, it will do it on its own.
Brazilian keratin hair straightening is the new and exciting way to get the kind of straight and sexy hair you've always wanted. Ask your favorite stylist to give you a keratin treatment from Marcia Teixeira.