'Why Does Brazilian Keratin Last So Long?'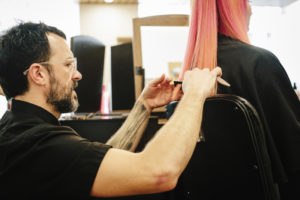 When you get a Brazilian keratin hair straightening treatment, your hair will hold its long, straight shape for weeks or possibly even a month or longer. Why?
The answer isn't magical. It's science. And it lies in the way the process works to give you the straight, strong, and luxurious locks in the first place.
Brazilian Keratin
So keratin is a type of protein that already is found naturally in your hair. It's one of the things that keep your hair from becoming brittle, frizzy, or limp. If you didn't have keratin protein in your hair, it would be difficult — if not impossible — to get it to hold its shape when you wanted to style it.
Brazilian keratin hair straightening is a process in which your stylist uses heat from a flat iron to bind additional keratin protein to the keratin already found in the hair follicle. So essentially it doubles — or even triples — the strength of your hair follicle allowing it to keep its straightness and bounce for longer.
Keratin doesn't wash out the way other hair products do. It's bound to the follicle if not permanently then at least for a long, long time.
The result is shiny, luxurious hair that holds its shape for weeks or months rather than just a couple of days.
Ask Your Stylist
If you want long, straight, luxurious hair that will last for weeks then ask your stylist for a Brazilian keratin hair straightening treatment by Marcia Teixeira. It only takes about 90 minutes but the results will last a long, long time.
You are going to love the results and can enjoy your lush, sexy new look for weeks or even months to come.
This new year, treat yourself to a new look that lasts. Get a Brazilian keratin hair straightening treatment and introduce the world to the new you!