The Marcia Teixeira Story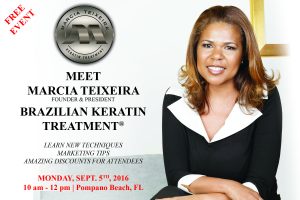 For years, we have been talking about the benefits of Marcia Teixeira Brazilian keratin hair straightening treatments. But who exactly is Marcia Teixeira? Is she a real person? Or is she simply a product brand developed by a marketing company?
The truth is Marcia Teixeira is real. And the story of how she discovered and popularized keratin hair straightening on a global level deserves to be told.
Brazilian Beginnings 
Marcia Teixeira is an American licensed cosmetologist who struggled with the harsh chemical relaxers used to treat women's hair at the beginning of the 21st Century. Unsatisfied with the quality of the products available and concerned about the potential damage they could do to her clients, she launched an extensive independent research project into finding a solution.
Motivated with a desire to protect women from hair damage and to relieve them from the struggles of unmanageable hair, she finally found the solution she was looking for during a visit to Brazil. Known locally as "escova progressiva", what later became widely known as the progressive blow dry allowed women to enjoy straight, lush, manageable hair without the use of harsh relaxers or other potentially damaging chemicals.
A Star Is Born
Marcia Teixera spent the next several years developing her own innovative hair treatment formula and by February 2006 it was ready for market. The Marcia Teixeira Keratin product line was launched and by 2008 demand had grown to such high levels that he sought the help from M&M International, which combined her great product line with global distribution. And the rest, as they say, is history.
Today, Marcia Teixeira's products are available in 50 countries worldwide. Women everywhere can now benefit from her arduous work and tireless research and development and enjoy long, straight, full-bodied hair that requires minimal care and maintenance.
Find out for yourself why Marcia Teixiera's keratin product line has become an international sensation. Ask your local salon about it today!