Is Brazilian Keratin Only for Long Hair?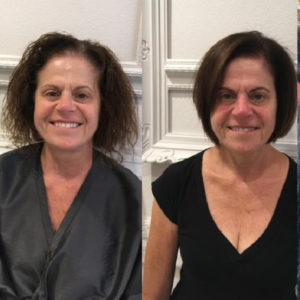 Question: "I have short hair. Can I still benefit from a Brazilian keratin hair straightening treatment? Or am I stuck with frizzy, unmanageable, and unattractive hair until I can grow it out?"
Good question. First of all, anybody can benefit from a Brazilian keratin treatment from Marcia Teixeira. Long hair, short hair, medium hair, curly hair, flat hair, you name it. Our exclusive hair straightening treatment will leave your hair looking straighter, bouncier, and more appealing no matter what your current hair length.
Short vs. Long
So the biggest difference between short hair and long hair benefits with keratin is volume. The longer your hair, the more pronounced will be the effect of having perfectly straight, wonderfully full-bodied hair compared to shorter hair.
But people with short hair will still be amazed and surprised by how much more attractive and sexier they look after a Brazilian keratin treatment. Your hair is going to look more lush, will feel more manageable, and will put you at the center of attention wherever you go and whatever you do. Brazilian keratin hair straightening by Marcia Teixeira is the one hair treatment that not only improves your sex appeal but also gives you more confidence while boosting your self-esteem.
Just Imagine
Even if you currently have shorter hair, you don't need to wait to get a Brazilian keratin hair straightening treatment — especially if you are prone to frizziness during the humid summer season.
With just one treatment, you can leave your local salon looking better, feeling more empowered, and ready to tackle any challenge life can throw at you. Just imagine, a single hair treatment can do all that and more.
So what are you waiting for? Call your favorite stylist today and make your appointment for a Brazilian keratin hair straightening treatment by Marcia Teixeira. You're going to love the results.