Effective Straightening for Every Type of Hair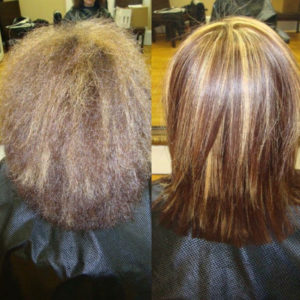 Brazilian keratin hair straightening treatments by Marcia Teixeira are highly effective at straightening every type of hair, from a kinky coil to damaged split ends and everything in between.
It was developed in Brazil, a country with one of the most diverse populations of anywhere else in the world. In Brazil, there are as many types of hair as there are types of people. And Brazilian keratin is powerful and strong enough to successfully straighten each of them, providing the kind of lush, attractive hair that looks good on everybody.
Long Lasting Beauty
While everybody's hair is different, all hair is essentially the same. It's made up of a complex mix of proteins molecules, including natural keratin. Brazilian keratin hair straightening is so effective on every type of hair because it uses heat to bind keratin protein to the keratin already found in your hair follicle.
The result is long, straight, and sturdy hair that is strong enough to stand up to extreme humidity, harsh chemical shampoos and conditioners, and anything else you can throw at it.
You're going to love your keratin hair straightening treatment. And you're going to get to enjoy it for a long time, as well. A single keratin treatment can last for weeks — or even months, in some cases — with little to no additional maintenance on your part except normal cleaning.
Brazilian Keratin
Regardless of what kind of hair you have, you can benefit from Brazilian keratin hair straightening by Marcia Teixeira. Just call your favorite local salon and tell them you want the kind of long-lasting, great-looking hair that looks good on anybody.
Don't you deserve to look your best? Get your Brazilian keratin hair straightening treatment today and look forward to enjoying the kind of luxurious, attractive hair you have always waned to have.